International Rights
Outline of five books for relatives of persons suffering from Borderline Personality Disorder (BPD) published by the German publisher Starks-Sture Verlag.
Borderline Personality Disorder causes patients to act in a very contradictory way that is often not comprehensible to those who are closest to them. The patient's mood frequently changes from effusiveness to extreme devaluation of themselves and of the people close to them. Relatives of BPD patients are especially helpless against the disorder as they are dragged into it not knowing what to do. The close contact to people with Borderline Personality Disorder thus can have a destructive effect on the relatives who may develop disorders such as Posttraumatic Stress Disorder (PTSD) or other serious psychosomatic illnesses.
It is astonishing that the difficulties that relatives of BPD patients suffer have been paid very little attention so far.
For license inquiries, please feel free to contact us.
---
Please find below a short overview of our titles in english language: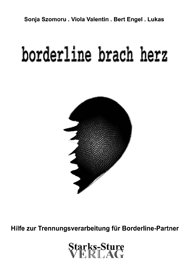 Hilfe zur Trennungsverarbeitung für Borderline-Partner
In 2005 Starks-Sture Verlag published:
"borderline brach herz, Hilfe zur Trennungsverarbeitung für Borderline-Partner"
(borderline broke heart, a helpguide for ex-partners of BPD patients)
by Sonja Szomoru.
The book remained among the top five titles of the German language books on BPD for one year and it is still selling really well and among the top ten borderline books.
It provides ex-partners who are always traumatized after separating from BPD patients with help on how to return to a normal life. This book also pays attention to codependency.
ISBN: 978-3-9809496-5-1, 120 pages, € 12.90
Directory
Preface
1. The Borderline Personality Disorder (BPS)
- History of BPS
- Criterions
- The Borderline Society
- Aquaintance of BPS
2. The structure of partner-ship to borderline disorders
- Similarities of relatives of persons with BPS
- Importance of the relationship to a borderline person
- Tendencies in the development in relationship
3. Break up
- It is always dramatic
- Help in case of Break-up
4. After break up
- Psychic trauma
- Loss of value
- The central question of "how"
- The first sign of relieve
- Alteration of anger, pain and guilt
- Do borderline persons have a conscience
- Why does the pain not stop
5. A way to a new life
- Time heals all wounds – let pain happen
- Therapy and persons
- To forgive myself
- To develop new values and to rediscover new bounderies
6. Good/Bad examples
7. Is their no excuse
8. The great present we receive through borderline
Review (amazon)
"…I had a Borderline partner. Never could I have imagined that separating from someone would shatter me so much.
'borderline brach herz' helped me to understand what had actually been going on with me and that a lot of people
living with borderline partners were experiencing the same things I did. The book really gave me strength and comfort
to endure the many bad hours and to slowly overcome my deep pain. I have read it again and again.
It also helped me to better understand the perspective of people with BPD who are so destructive towards their partners
because they were hurt themselves. I can recommend to all people living with a Borderline partner and also to the relatives to read this book
that was written in such a sensitive and understanding way. It helped me and it was exactly what I needed in that situation!"
---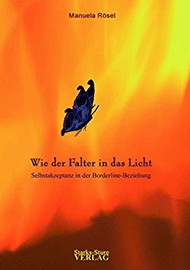 Wie der Falter in das Licht
Selbstakzeptanz in der Borderline-Beziehung
In 2007 Starks-Sture Verlag published:
"Wie der Falter in das Licht, Selbstakzeptanz in der Borderline-Beziehung"
(Like a moth into the light, self-acceptance in a BPD relationship)
by Manuela Rösel.
This book is one of the first books published by bestselling author Manuela Rösel. In this book the author uses various examples to make partners aware of the reasons that led to them having a destructive couple relationship. At the same time she offers valuable advice on how to increase self-acceptance in order not to remain helpless in the relationship. Again she also refers to the communication strategies of Marshall M. Rosenberg. This is a very sensitive and effective self-help book.
ISBN: 978-3-9809496-02-9, 160 pages, € 16.90
Directory
Preface
1. Environmental conditions and the concequences
- Criterions of DSM IV
- Communication without violence
- Really helpless
- Education – relationship
- Matters of believe
- Destiny?
- Role playing-models
- Matters of involvement
- Do I have follow relationship rules?
- I always fall for wrong person
- Self-healing
- Who is wrong and who is right?
- The priority of diagnosis
- How does the borderline problem of my partner effect myself
- Why am I encaged in this relationship?
2. Real stories – out of life
- Mareike T., 36 years old, corporate consultant, former partner
- Andreas M., 30 years old, journalist, former partner, one child
- Jeanette D., 38 years old, director, former partner, one child
- Stefan S., 47 years old, employee, former partner
3. What is obvious
- A natural development
- Grown-up and what now?
- How can I realize it?
- Similarities
- When should I end a relationship?
- What you should not do after the break-up
- Consequences for partners after a break-up
- Consequences out of neglecting treatment
End ...
Review (amazon)
"I thought everything had been written about but Ms Rösel went one step further.
Just like her first book 'Wenn lieben weh tut' this book also gave me a lot. I managed to do what the book recommends,
to gather new information and to intent to put a few things into practice. Her way of gripping the reader and of motivating them
to change things is really incredible. I look forward to every new book and I am curious to know what other things she will impart,
teach and give us, the readers, in future. Thanks a million for the good structure, the perfect information and the sensitive way of writing."